MagBeam Kit
Fresnel Flash Extender
MagMod Satisfaction Guarantee
MagMod is backed up with a no-nonsense 90 day satisfaction guarantee, and MagMod products are also covered by a limited warranty.
Epic landscape shots, creative portraits and a world of unique creative possibilities are easier than ever with The MagBeam Kit in your bag. This is the most versatile, unique and awesome fresnel lens flash modifier ever created for photographers.
*Includes MagBeam, Tele Lens, Wide Lens & MagMask Standard Set
*This product requires the MagGrip*
Variable spotlight pattern. Tons of new options.
When fully extended, the MagBeam gives you super-focused light with a hard edge, similar to a stage spotlight. Collapse the MagBeam down one or two stages to create a wider beam pattern while retaining the beautiful shape and crisp edges. Its like having a Hollywood-style fresnel spotlight that fits in your pocket..
Expand MagBeam to see the difference
2 to 3 stops brighter than your bare flash.
Sometimes photographers need more "juice" from their speedlites, and the MagBeam is up for the job. It's designed to give you up to 2 to 3 effective extra stops of useable light. This means more light at a greater distance, and your flash recycles 4 times as fast. Ya, its a big deal.
Pattern projecting thing of wonder.
The MagBeam's collapsible design isn't just for portability. Collapse it down all the way, swap in a Wide Lens, 
add a MagMask, and now you've transformed it into a pattern-projecting-thing-of-wonder. Mind. Blown.
MagMasks are our custom-made stainless steel 'gobos' that create patterns to project through the MagBeam anywhere you want. Sweet huh?
Customer Reviews
Write a Review
Ask a Question
Filter Reviews:
MagBeam
MagMod
experience
quality
videos
YouTube
feature
photography
everything
light
04/04/2020
Salty J.
United States
MagBeam Kit got it done
Simple to put together as the MagMod products are. For me, being able to light my subject from a distance was key. I photograph wildlife and it comes in quite handy when I'm in the woods. I also use it when I want to focus on a subject in a candid shot. Another great product from MagMod!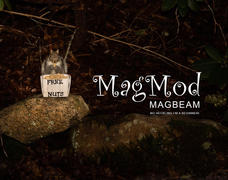 09/26/2019
Graham G.
Australia
08/20/2019
Mike C.
Australia
Great Value Kit.
Does almost exactly what I expected it too, but the use of the MagMasks was a little trickier than I anticipated. I highly recommend checking out the videos. The good points have been well established in other reviews, everything here is of the quality and standard we've come to expect from MagMod, can't complain there. Works consistently. My only disappointment is that the MagMasks aren't quite as versatile as I expected, but honestly once you get into the swing of them they offer plenty of creative options so it really is very minor. I just would have liked more control over the 'sharpness' of the projections. Finally, it's a shame that they don't offer a kit focused more on just using the MagMasks, as while I'm sure I'll get use out of the Telephoto lens at some point, I don't really need it and could have done without it. I would love to have seen an equivalent to the MAGBEAM WILDLIFE KIT but instead focused on the MagMasks with the wide lens. Overall though, very happy and I look forward to expanding on this kit with more of the creative MagMasks in the future.
08/12/2019
Tony C.
United States
07/22/2019
Alex M.
United States
09/02/2020
jimmy s.
United States
Live it....
I really like the magbeam. I've used it in one photoshoot and the pictures came out amazing. I can't wait to use it some more and be more creative.
MagMod Products are Designed to Work Together
MagMod's modularity makes it easy to combine multiple modifiers, stack gels or even integrate multiple gels with multiple modifiers. Since our products are designed to work together, we built curated modifier kits for every type of photographer. You're welcome.
View Packages
The MagMod Satisfaction Guarantee
MagMod is backed up with a no-nonsense 90 day Satisfaction Guarantee. If for any reason you do not enjoy your purchase, please return it in its original condition for a full refund.
MagMod is also covered by a Limited Warranty.