MagBox 24" Octa Starter Kit
MagBox 24" Octa Starter Kit
Soft Light Done Right
MagMod Satisfaction Guarantee
MagMod is backed up with a no-nonsense 90 day satisfaction guarantee, and MagMod products are also covered by a limited warranty.
This kit outfits you with the 3 core products you need to get crackin' with the MagBox system. Create beautiful, soft light quickly and easily with 1 or 2 speedlights using this starter kit.
*This product requires a MagGrip*
What's included
1

MagBox 24 Octa

1

MagRing

1

MagShoe

1

MagBox Fabric Diffuser
Soft Light, The MagMod Way
With 2 awesome diffusers, the MagBox makes it easy to control off camera softbox lighting. Bring your creative vision to life with the Fabric Diffuser or the FocusDiffuser. A multi-tasking grid, lens and diffuser in one, the FocusDiffuser lets you maximize the output of your flashes while limiting spill and keeping light soft. Combine either diffuser with a reusable polycarbonate MagBox Gel for quick and easy color correction.
See the difference
Fabric
Diffuser Focus
Diffuser Fabric
+ CTO Gel Focus
+ CTO Gel
Awesome. Because Magnets.
Magnets make photog life better. That's why we put 'em inside the base of the MagBox, allowing you to quickly, speedily and silently attach it to a MagRing or MagBox Speedring Adapter. There's magnets in the diffusers, too, so setting up and switching set-ups are super simple.
Speedlite & Strobe Compatible
The MagBox is the most versatile softbox ever, making it one super smart investment. Use it with 1 or 2 speedlights—any flash that has our patented MagGrip installed will work. Or use an optional MagBox Speedring Adapter to mount a Profoto, Bowens, Elinchrom or Paul C. Buff strobe.
Live Your Best Softbox Life
The MagBox is one solid piece. Pop it open with an easy, satisfying click. With magnets in the base, you can throw it onto your MagRing in a second. When you're ready to remove the MagBox from the MagRing, simply press the orange tab. Then fold up the MagBox in one neat, portable piece.
Customer Reviews
Write a Review
Ask a Question
Filter Reviews:
MagBox
weddings
purchase
boxes
thats
some
versatility
flashes
light
head shots
06/12/2020
Josh Q.
United States
02/15/2020
Christopher J.
United States
So glad this was created!
I must say that not only am I impressed with the simplicity and design of your products. But the I love the way it improved my productivity, and my clients appreciated it as well. Planning on purchasing the Pro kit next! Magmod is AWESOME!
07/15/2020
Brenda G.
United States
Wonderful!!!!
I love it, love it, love it. I had purchased the Parabolic Umbrella just before purchasing the MagBox. After opening the MagBox and using it, I sent the Parabolic Umbrella back as it takes way to long to set up. The MagBox is just perfect for all of my needs. So happy with it that I bought a second one. Thanks MagMod for the versatility and ease of use with MagBox.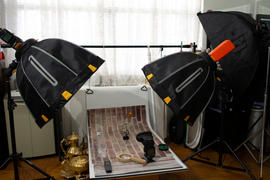 07/13/2020
Steve N.
United States
06/05/2020
Jesse R.
United States
06/03/2020
Anthony R.
Qatar
One Big, Happy Family
MagBox products integrate seamlessly with the rest of your MagMod gear. So go ahead and try things you've never tried before: stack up rigid gels, stack multiple modifiers or switch deftly back and forth between large and small light sources. Nailing the perfect image—and knowing you can do it quickly and easily without fail—unlocks a whole new world of creative confidence.
View MagBox System
The MagMod Satisfaction Guarantee
MagMod is backed up with a no-nonsense 90 day Satisfaction Guarantee. If for any reason you do not enjoy your purchase, please return it in its original condition for a full refund.
MagMod is also covered by a Limited Warranty.